OK, I had a Case of the Mondays today, and, yes, it's possible on my days-off and when I do morning yoga.
I won an eBay auction yesterday and the seller, who lives near me, allows local pickup, but when I messaged them to arrange pickup, they did not reply. I still haven't heard from them today and I'm getting suspicious. And because I'm smart (no), I already paid them. It must also be known that eBay's customer service line is garbage.
While reading celeb gossip nonsense today, another legend left us because of that evil demon known as cancer. Meanwhile, a trash bitch keeps on fucking up and needs to be in a jail cell last month.
While waiting on a red light, I was behind a truck that had some racist AF bumper stickers and that oh-soooo edgy LGB (I'm not writing it out) message in *surprise* red, white, and blue. (Side note: anyone saying that shit is an ignorant, unfunny, spineless oxygen thief, full stop.)
It took almost an eternity to check out my two items when I was at Macy's because someone was holding up the line with all the crap they bought, and there was only one cashier around. And I was starving. I couldn't even savor my lunch because I was so pissed.  
Then I went to TJ Maxx after and tried on a pair of wide-legged jeans that, surprisingly, was the right inseam for my short ass. All the pants I want to wear are so damn long in length. Despite my ragey lunch, I found out I can fit into a size smaller than the one I currently wear.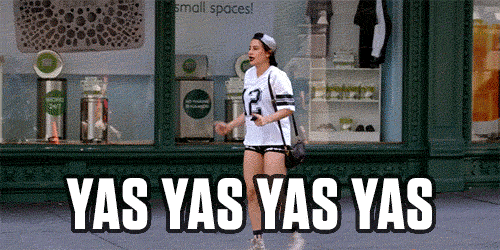 And the Giants won another game today. My Monday is salvaged.