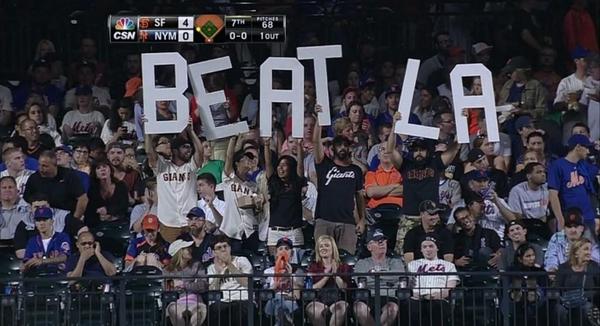 Playoff baseball has officially bit my ass. I know this because last night I had this weird dream that both the Giants and Bums scored six runs each in Game 1 of their series, and the score remained stuck for innings while I wandered around Oracle Park like I had mixed NyQuil and DayQuil. Not the first dream that I wandered around in such fashion and in a place my real-life self cannot afford to get into, but that's not the point. While I will always adore the City of Smog, Super-shitty traffic, and Superficial Hot Messes, when it comes to playoff baseball, mah team comes first! Go Giants!
Side note: not sure why that message is in a Giants-Mets game, but at least those fans know how to spell.
*and for the rest of the NLDS, I should add.