Various blonde models on US Elle magazine, September 1991. I have this now-30-year-old issue in my collection! And obligatory: models and fashion nowadays don't look this lively! 
It's a new month yet again, and once upon a time in the world of fashion magazines, way before they became run down by excessive use of actresses, reality show trash heaps, and girls of nepotism, September was seen as its most important month. The likes of Vogue, Elle, W, and Bazaar released their "Fall Fashion Issue" that were thick as a Big Mac, and the model who graced the cover of that issue was seen as the face of fashion that season. Because the so-called fashion mags these days bore (and sometime annoy, depending on who gets the cover) the fuck out of me, I look back at a few of my favorite September covers to not only properly serve me FASHUN, but to remind me of how great fashion mags once were. And if you notice a 90s bias, I'm not apologizing for it!
Linda Evangelista on US Harper's Bazaar, September 1992. That was THE cover that resurrected Bazaar from middling mediocrity (see their covers before this one, and you'll know what I mean) and positioned them to be another stylish rival to the giant that was Vogue. I have many issues of both Bazaar and Vogue from the 90s, and while Vogue had the clout and most of the top photographers, I felt like Bazaar was more palatable compared to Vogue, from its unique storytelling in their editorials to the mesmerizing typography, designed by the great Fabien Baron.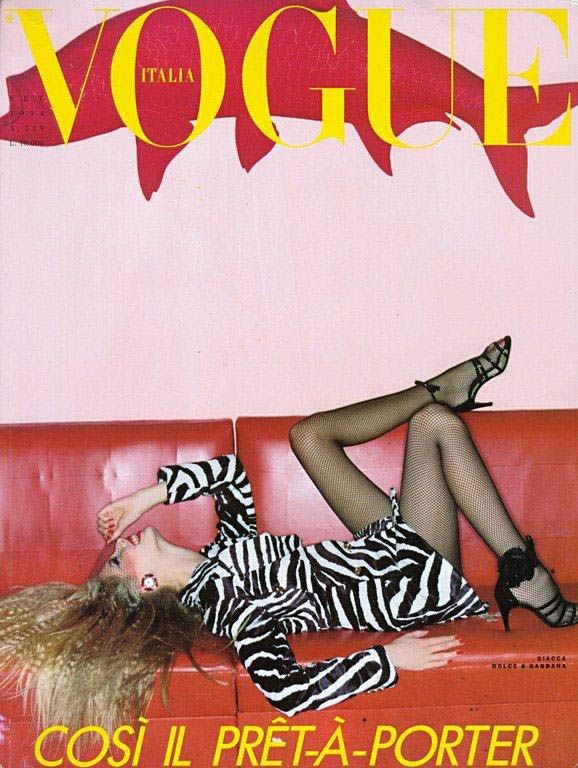 Kirsty Hume on Vogue Italia, September 1994. Leave it to the foreign fashion mags to show its US counterparts how to really serve a cover. Vogue Italia (aka Italian Vogue) was that stylish bitch back in the day. Fall 1994 fashion was all about wild, disco-inspired glamour, the antithesis of all those dreary, grunge looks from the previous year, and this cover (along with Bazaar's infamous September cover that same year) captured the mood of the moment brilliantly. Photographed by the legendary Steven Meisel, the cover is giving me Helmut Newton/Guy Bourdin vibes. Adore!
Kate Moss and her brother Nick on US W magazine, September 1995. This is brilliant because of one thing: dude in a kilt on the cover of a fashion mag.
Linda Evangelista on US Vogue, September 2001. This issue is now 20 years old?! I remember buying two copies of this because I was sooooo excited over the return of Queen Linda. I didn't even know of her comeback until I saw it on the newsstands. (What social media? This was 2001, kiddos.) Easily my second-favorite Vogue cover of 2001 (with the cover of topless Penelope Cruz still tops).