It took a little over two years since the start of this blog, and I'm sure some basics on social media have amassed more followers in far less time, but hey! And I didn't have to buy my followers either! Given some of the shit I've ranted about in the past, I'm kind of surprised I got 50 followers.
Time for a happy twerk!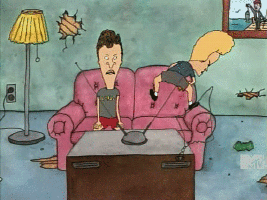 I'm currently watching classic Beavis & Butthead, by the way, which influenced my choice in GIF.