Me after reading Britney's statement against her indentured servitude to her pimp dad conservatorship…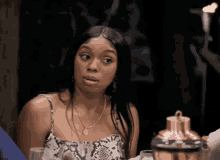 It was relieving to hear the actual Britney and not some PR person masking as her for once. But, wow. She spilled a lot. The backbreaking work schedule forced upon her, the lithium thing, the forced IUD?!?! How could you not get sad and angry over all this? Even if you're not a fan of her music or think she's overrated (I'll spare the side-eyes for now), she is still a human being that doesn't deserve that shit at all.
My sympathy and support to Brit-Brit is boundless, and I hope she finally gets her way and lives the life she wants. Is that hard to ask?
Also, I see you Timberfake and Lamar Odom's plastic Sasquatch ex-wife trying to fish for some goodwill in all this with your faux support. STFU and continue to fade into obscurity.