I couldn't find a fun thing to post here (that also didn't have to do with the terrorist bungwipes getting shamed and arrested for participating in last week's Fascistpalooza, as I want to avoid that topic for a minute) for the past few days. Just when I was going to file a theft report on Steve Harvey's daughter for stealing Michael B Jordan away from me (booooo), another favorite subReddit of mine came through with a perky post on what may very well be the breast pillow ever!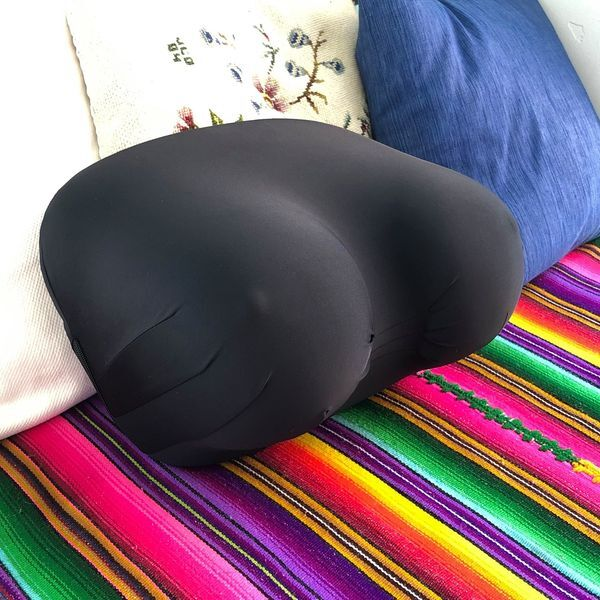 And the company who makes these "most realistic boob" pillows with "100% mammary foam" (ahahahaha) must be after my heart and wallet. They look realistic–at least if you look at them like they're fake titties. The pillow above seems to have one titty slightly bigger than the other and the "wide canyon" in the between, just like a classic stripper's rack, so the company got the realistic part right. My all-natural swing-low sweet chariots can't compare, but they do look like that after you've had seven beers.
Also, I cannot be the only one who reads the descriptions and think all of it was originally written in a foreign language and went through BabelFish for translation:
"you feel very interesting, with curves contoured like those of a woman, creative breast boob pillow for comfort, it will be your best friend who brightens your mood…"
I dunno, if I were to nestle my head in the chichis of my bestie every time I need to brighten my mood (and that's like almost every other day hour), she'd be questioning the hell out of our friendship.
The more I look at it (and I need to stop looking at it), the more I see its versatility. Think about it: you can use it to actually relax your neck or low back, do slut stuff with it if that's your game, use it as a breastplate to scare or humor others, pillow fight with it, or display it in your home on the shelf as a work of art. Basic ergonomic neck/low back pillows be damned, for the MyTittyPillow has arrived to suit your many comforting needs!
Pic courtesy of the The Top Store