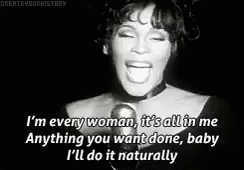 This Sunday is International Women's Day, and it's also Women's History Month this month. To celebrate, here are my songs (after the jump) for all the amazing women out there who get shit done!
(I'm posting Chaka's version over Whitney's here since Miss Houston's in the header GIF, although I enjoy her version of the song equally.)
(There's another, more well-known version of this song, but I prefer this version.)
(It was a toss-up between "Fighter" and this other great empowerment anthem of Xtina's. But I posted that song months ago and while it does belong on this list, I was feeling this song a little more.)
And we cannot forget the OG girl power jam!