Valentine's Day is now less than a week, and for us single women who don't need to be partnered, we're all (or at least I am)…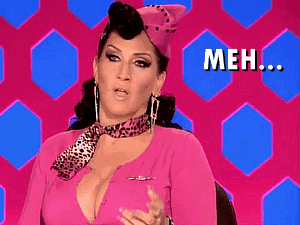 So what's a single girl to do when one gets bombarded by all this romantic, I-Love-You shit oversaturated in mawkish shades of pink, white, and red and infested with the requisite hearts, and seeing couples hamming it up during this time of year? Besides not having to worry about my partner on what to cook for them tonight and throw side-eye to those flaunting excessive PDA? Listen to songs that soothe a single girl's heart that doesn't feel lonely and sad but glad over her "self-partnership" (hey, Emma Watson). After the jump, here are my jams!
(Also, the VMA performance of this song was LIT before "lit" entered the pop culture lexicon. Look at Da Brat coming in Gladiator-style!)
(The comment on this video that said this looks like "they're doing a Victoria's Secret commercial" is spot-on, by the way.)
And speaking of 2000s-era PCD, my go-to song dedication to the taken men with, uh, questionable significant others (and I got some names, one of which is a former celeb crush that I just kicked out of my fantasy harem a couple months ago)…
For the single women who secretly yearn to be with someone but that someone is with another, or just came off a bad breakup and saw your ex getting happy with another, and realizing they're probably gonna have a sweet V-Day and not you…well, first off, let that someone make the mistake of not being with you. I should know this feeling all too well. Second, thank Dolly for this song…
And for the ones who experienced a messy breakup, thank Whitney for this song…
(This may not be the original, but it's the best version of this song, hands down.)
And, of course, I can't forget the OG songs for those who got out of a bad relationship:
I'm throwing in these underground 90s dance tunes. You may not have heard of them, but listen closely to the lyrics (if you're not dancing). It's like feminism on the dance floor! 😛
And since single women don't have to worry about cheating whatsoever, for the proud sluts *points at self*:
(Yes, "Nasty Girl" is on this list and stays on this list. Why not?)
Now go and place your bets on me being in a relationship by next Valentine's Day, because life can be funny like that.